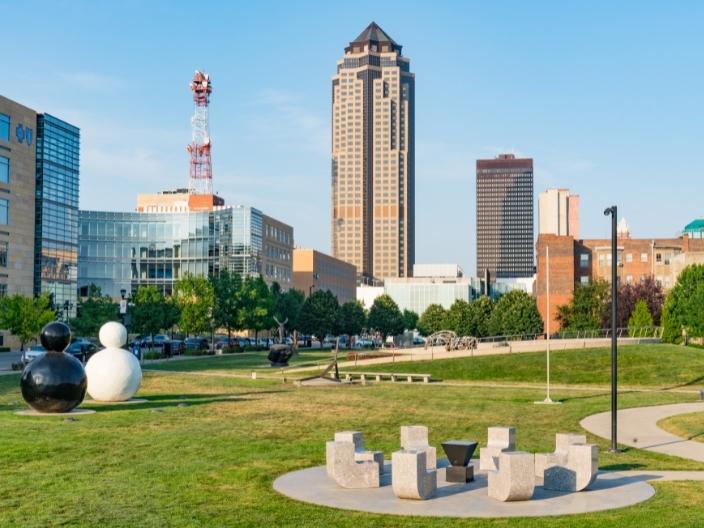 The agricultural nature of industry in Iowa may not bring welding to mind as a potential career in the Hawkeye State. However, farming and welding go hand-in-hand, and the state offers ample training opportunities for potential welders and employment opportunities once skills are mastered. If you are in the Iowa area and considering a career in this creative and time-honored trade, this guide will provide all information about welding schools and careers in Iowa.
What Does a Welder Do?
Skilled welders manage the equipment that creates and fixes metal structures, equipment, and tools. Professional welders work across a range of industries including construction, automotive, and manufacturing. They are also responsible for planning measurements and layouts, and for testing welded surfaces.
Welding Schools Near Me in Iowa
The state of Iowa has several post-secondary institutions that offer welding training. Here are some tips for choosing the right program.
When selecting a school, you must first determine the type of certification you will seek and pinpoint the schools that offer it.

Welding schools may offer programs that last from 12 weeks to 2 years (or 4 if you want a bachelor's degree). Choose the program length that best fits your needs.

In addition to learning welding processes, you should look for schools that offer metal cutting, pipe fitting, blueprint reading, metallurgy, and welding inspection. These are all skills that will assist you in your welding career.

Check the equipment available, the student enrollment, and the student-faculty ratio in the program you are considering to ensure you are not waiting around for equipment or wasting time in overcrowded classrooms.
This two-year public school has a student population of 3,279 and offers associate's degrees and industry certification.
Location: Ottumwa, IA

Phone number: (641) 683-5284

Programs available: Accredited blueprint reading, welder certification, pipe welding, and pipeline welding

Program duration: 1-2 years

Average cost: $4,560 in-state tuition
The Welding Technology Program at Iowa Central teaches fundamental principles and techniques in areas like repair, layout, estimating, metallurgy, and fabrication.
Location: Storm Lake, IA

Phone number: (515) 574-1934

Programs available: Welding technology, blueprint reading, robotic welding, pipe welding, and welder certifications.

Program duration: 1 year

Average cost: $3,000 per semester in-state tuition
With a student population of 5,042 and a student-faculty ratio of 17-1, this 2-year public school offers industry certification as well as associate's degrees.
Location: Waterloo, IA

Phone number: (319) 296-2320

Programs available: Welding technology

Program duration: 12 weeks to 2 years

Average cost: $5,977 in-state tuition
Des Moines Area Community College
DMACC is a 2-year public educational institution with 23,051 enrolled undergraduates that offers certification and associate's degrees.
Location: Ankeny, IA

Phone number: (515) 964-6200

Programs available: Welding technology

Program duration: Less than 12 weeks to 2 years

Average cost: $5,220 in-state tuition
This 2-year public technical school serves 5,360 undergraduates in a small school setting with available campus housing and a 16:1 student to faculty ratio.
Location: Sioux City, IA

Phone number: (712) 274-8733

Programs available: Welding technology

Program duration: 12 weeks to 2 years

Average cost: $4,802 in-state tuition
Welding Career Opportunities in Iowa
Iowa's largest industry is agriculture and is responsible for producing 1/14 of the country's food supply. Welding, specifically hardfacing (welding wear-resistant surfaces to metal components to extend their life), is integral for agriculture to keep equipment in good working order for the crucial planting and harvesting seasons. While manufacturing makes up a smaller percentage of Iowa's economy, it is still a significant industry and provides ample opportunities for lucrative welding careers.
How Much Do Welders Make in Iowa?
Welders in Iowa earn an average base salary of $45,583, which is roughly equal to the national average. With ten years of experience, the average goes up to $52,084. The highest paying cities for welders in Iowa are Cedar Rapids, Pella, Urbandale, Sioux City, and Manchester.
Major Employers of Welders in Iowa
Top welding employment options for Iowa include the following:
How To Become a Certified Welder in Iowa
Welding is a skilled trade requiring high levels of precision, and welders must prove their skills in the process of receiving certification. The American Welding Society (AWS) offers certifications in welding, welding engineering, welding inspection, welding sales, welding education, and welding supervision.
Do You Need a License to be a Welder in Iowa?
The state of Iowa does not require licensing for welders.
Iowa Welding FAQs
Here are some common questions related to new careers in welding:
1. How Long Does It Take to Become a Welder?
The amount of time required to become a welder varies depending on the avenue chosen for learning the welding skills you need. Welding apprenticeships can last from a few months to a few years, depending on the employer and the specific position. A welding certificate generally requires six months to a year and a half to complete. An associate's degree in welding takes approximately two years, and a bachelor's degree requires four years.
2. Does a Welder Need Insurance in Iowa?
Welders are required by the state of Iowa to hold general liability insurance to cover damages.
You can easily request a free commercial insurance quote from our partners using the tool below.
Get A FREE Insurance Quote
No Commitment To Buy
3. Who Can I Contact If I Have Questions?
The American Welding Society is available to answer any questions you may have in your journey to become a welder. Call their toll-free line at 800-443-9353 between 8-7 EST Monday through Friday.
For More License and Career Guides
To find out how to become a Welder in another state, start here.
For information on other trades in Iowa, click on a link below to learn more about the licensing requirements: