"Build it, and they will come!"
This saying is total BS. In terms of a general contractor business it should say: "Build it, and nobody gives a sh*t!"
It's important that you know the fundamentals of running a successful general contractor business. But marketing will also play a key role in the success of your business.
ALPS Mountaineering Meramac 2, 3 or 4-Person Tent
Price as low as $67.99 TODAY ONLY!
Buy Now
But do you really need marketing - Can't you just get by without it?
Maybe.
But, did you know that 90% of businesses fail within the first 5 years? By starting a business you're fighting against tough odds - so you need EVERY bit of help you can get, and marketing is a HUGE element of success.
20-Volt MAX Lithium-Ion Cordless Combo Kit (7-Tool) with ToughSystem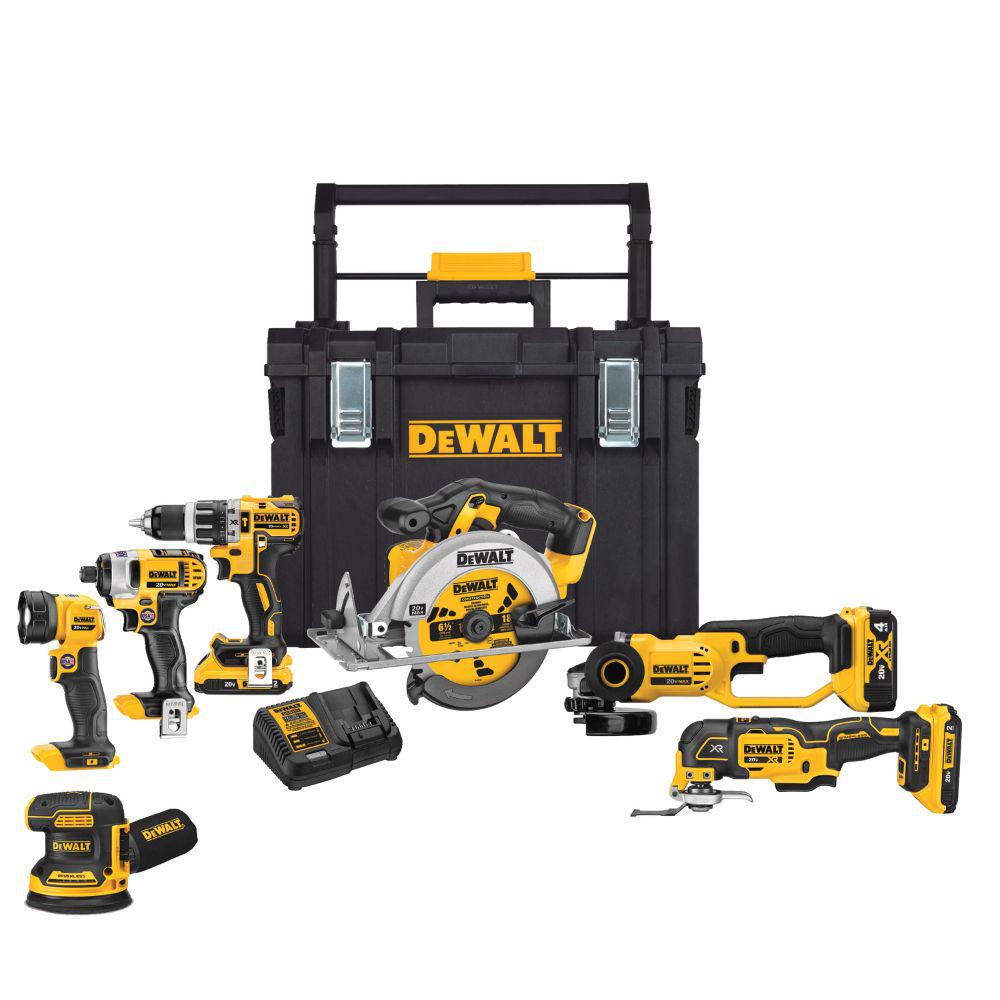 58% Off (Save $701.00) Today Only @ Home Depot!
Buy Now
You might be the best contractor in the world and still fail, because nobody will know about you. You NEED to get potential customers "in the door".
I can't emphasise the importance of marketing enough. Think of it like this: you're in a race against competitors (other contractors), your business fundamentals are your right leg and your marketing is your left leg. Everyone else in the race is running flat out on two legs - and you, without a marketing plan, are just hopping along and falling further and further behind.
So let's make a new saying: "Build it, market it, and they will come".
---
Easy marketing for the busy contractor
Fear not, marketing is not as tricky as you might think. In fact, it's probably much more simple than you're expecting.
Let's get really obvious here. What's the aim of marketing? It's to get you talking with people who are interested in paying for your services.
That's it. Forget any fancy terms you may have heard thrown around for a moment, and let's just talk about some simple ways for you to get talking to potential customers.
---
You're gonna need a website
Not only will you need a website, but you'll need one that looks good on computer AND on mobile. Many websites don't look good on mobile, so if you have an old website that was made even just 4 or 5 years ago you might need to get it modernised.
Benefits of a website:
-Potential customers can find you through Google searches
-It can generate leads 24/7
-A website can showcase pictures of your work to build reputation
-It will have all the relevant information a customer might need - the are you service, quotation process, etc
Increasingly, your potential customers won't even consider you as an option for their job if you don't have a website. They won't even KNOW that you exist, because they do all their research online and you're not there.
This is not a fad. This are still moving more and more online, and you're cutting yourself off from a huge amount of potential customers if you don't have a website.
A website is marketing 101.
It even helps with word of mouth business - someone recommends you to a friend, who then types your business name into Google and finds your website. They see your awesome up to date information and some pictures of your work, and then they give you a call.
Alternatively they type your name into Google and you don't appear because you don't have a website. The person just types a different search (such as "general contractor Austin") - and within seconds you've lost a potential customer because you didn't have a website.
---
Facebook for your business
Where do your potential customers hang out?
Facebook, Instagram, and Pinterest, that's where.
That means from a marketing perspective that you should be in these places too. Don't worry, it's not hard, and you can keep it really simple.
Maybe you don't need profiles on all of these places. Just start with Facebook - it's easy, go to Facebook and create a page for your business. Add a nice profile picture and some information about your business (phone number, address, etc) - that's it, you're up and running.
Now just post an update every now and then, maybe show some pictures of your current jobs or completed work. Just keep your Facebook page looking active, and always engage with people when they comment or message you.
"Social proof" is an important aspect of marketing.. this is basically potential customers seeing that others are happy with your service. You can ask your happy customers to leave you a nice comment on your Facebook page - boom, now you've got some social proof. Easy, right?
---
Word of mouth is still important
I'm sure that you always strive to do great work and satisfy your customers. That's great, and it can help you to win more business.
Make sure to tell your happy customers that you're always on the look out for more business, and that you'd love to help anyone they know who might need some work done. If they've had a good experience with you then they'll be happy to pass on a recommendation. Free marketing!
---
Getting customers from Google
Have you heard the term "SEO"? It means "search engine optimization" - basically, it means setting your website up in such a way that it tells Google "I'm a general contractor, and I service the city of Austin" (or any other city).
A web designer can most likely help you with some basic SEO while making your website. "Basic SEO" means simple things appearing on the Google search page when someone types in your business name. This will help people who've heard about you somewhere else to find your website.
"Advanced SEO" would be finding totally new potential customers. If you were the first website on the Google search page when someone typed "general contractor Austin" (or whatever city you're in) - wouldn't that be great?
You bet it would, but all of your competitors also think it would be great, so there's a lot more competition and it's more difficult to get your website to appear first on the search results page for search terms like this.
For this advanced SEO, you most likely need to hire an SEO agency. This can get expensive and it can also take a while to see results.
Definitely focus on basic SEO, but you can probably ignore advanced SEO until your business is large and stable. There are plenty of other (easier and cheaper) ways to find new customers and grow your business.
---
Lead generation services (HomeAdvisor, etc)
There's a few of these different services, but let's just focus on HomeAdvisor because it's probably the most well known.
Basically, home owners who need some work done can go to HomeAdvisor.com - and they will list contractors in their are who do the type of work they need. If you pay HomeAdvisor, they will send leads in your direction when there's someone suitable.
There's good things and bad things about this, let's do a quick break down.
PROS

CONS

-Easy way to have a constant stream of leads

-"Piggy back" on HomeAdvisor.com audience to get leads

-It's pretty hands-off after you setup your profile

-You have to pay for every lead, and it can be expensive

-Many (most) of the leads you pay for will not turn into jobs

-It will only get you so far. You need more marketing to grow constantly
---
So, is it worth your time?
It probably is so long as you have these two things: some money to get started (leads are going to cost you $50-100) and the right mindset.
The money bit is obvious. Set aside a budget of a few thousand and give it a shot (some tips for that below). If you can't afford that right now, then focus on the cheaper ways of finding customers for now to get your business off the ground.
What about the right mindset? Let me explain.
As I mentioned above, you're going to pay for a lot of leads and most of them just won't turn into jobs. That's OK, that's how it's meant to be.. and it doesn't mean it's a bad idea.
Think of it this way. Let's say you pay $50 per lead, and you get 13 leads from HomeAdvisor. That's $650.
Now, of those 13 leads you talk to 7 on the phone, and you get to give quotes to 4 of them.
Then, 1 of those 4 accepts your quote and you do the job - that job earns you $2,000 in profit.
So overall with HomeAdvisor you've spent $650 and earned $2,000 - pretty good!
So it can be expensive and you won't even get to quote many of the leads you pay for.. but, it can still work out well overall.
---
HomeAdvisor tips for success
There are a few things you can do to improve your chances of success with these lead generation services.
Firstly, you need to make sure that your profile on HomeAdvisor looks great. Have some pictures of your work, loads of information about your business, and basically anything you think a potential customer might want to know.
Secondly, make sure to contact your leads asap after they are passed to your from HomeAdvisor. You'll get their phone number and email address - call them immediately. Your chances of winning them as a customer go down drastically the longer you don't call them.
Lastly, make sure to follow up a few times. Maybe they don't answer your first call or they can't talk for some reason - no problem, give them a call back a day or two later. Send them an email the following day just to let them know you're available to answer any questions or speak further.
- Make the profile look nice with pictures of your work and business information.
- Contact all leads ASAP. The sooner you react, the more likely you are to win.
- Follow up a few times.
The great thing about HomeAdvisor is that it can kickstart your other marketing. You'll get a constant stream of leads and customers, which hopefully also means a stream of satisfied reviews for your Facebook page, and lots of word of mouth marketing. It can really help to accelerate the early growth of your business.
---
Marketing, this is only just the beginning
As mentioned at the start of this article, marketing is a crucial element of your general contractor business success.
Marketing allows you to:
-Find more customers
-Make your business bigger, and more secure
-Improve your reputation
-Gain loyal customers who will return to you and recommend you to people they know
There's also the option to hire an expert to do all this stuff for you. If you've got more money than time, then you should definitely do that.
If a marketer knows what they're doing then they can definitely get you a constant stream of fresh leads for a reasonable price.
But, the fundamentals of your business need to be solid first.
Obviously, you need to have enough budget to afford a marketing agency. But you also need to have a deep understanding of your costs, margins, profit, and pricing. And, you need to already be effectively turning your leads into paying customers - what's the point of paying to get new leads if you can't yet effectively turn those leads into profit?
---
This is how you become a successful contractor
If you found this article useful, then it's your lucky day...
My friend Dan Perry has created a course that'll help you make more money, find more customers, and charge higher prices.
It's essential reading for any new general contractor, and it's the only reason my business is still operating today.. Dan saved my business from the edge of collapse.
He teaches the fundamentals of a residential contractor business. The principles that every contractor needs to know if they hope to be successful.
---
How to make more money, find more customers, and charge higher prices
I was broke, depressed, and barely putting food on the table for my family.
It all changed when I met Dan Perry. He's the reason I'm still in business today.
Dan taught me how to make my contractor business THRIVE. And he can help you too.
Dan is a genius who has a course called "The $100k Handyman". Don't let the title put you off, it is as useful for general contractors as it is for a handyman.
The $100k Handyman has taught hundreds of contractors:
-How to increase profit and margins.
-How to quote jobs and talk money with customers.
-How to charge more than your competitors and still get the business.
I'm not sure for how long "The $100k Handyman" will be available - he doesn't want too many competitors to get their hands on this information.
Click here to get your copy of The $100k Handyman, before it's too late.
Most people never figure this stuff out on their own. They try and struggle for years, and then their business fails.
Dan and The $100k Handyman can save you a lot of hardship...
Click here to get your copy now!
To your success,
Jason